"Do-It-Yourself Acupressure" Kit
Featuring Quantum Infused Holograms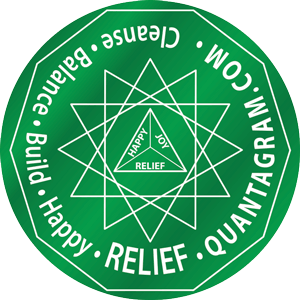 ACUPRESSURE CAN BE THE ANSWER FOR RELIEF
In recent years, there has been increasing concern about the risks associated with certain types of pain medications. As a result, some pain medications have been restricted in terms of their availability and usage leaving some with little or no answers.
Many people have turned to over-the-counter (OTC) products for relief. By doing this, some people are more at risk to many side affects. OTC products can cause serious liver damage among other problems as well. 
Acupressure is believed to stimulate the body's natural healing mechanisms, promote blood flow, and release tension in the muscles. Research has suggested that it may be effective in relieving pain caused by a variety of conditions, such as headaches, neck pain, and lower back pain.
With the help of the ancient Chinese practice of Acupressure, there are ways to enhance your "Chi" or energy to balance your body and blood flow. Additionally adding a proprietary formula of herbal and earth frequencies from our QuantaGrams™, you may be amazed at your better sense of well being.
The Relief QuantaGram™ is targeted to support general wellbeing and everyday life.
Our QuantaGram™ products have over 15 years of research, testing and development combined with the placement on or near the acupoints along the meridians on you body.
Fortunately, with the help of Acupressure and our Quantum Infused QuantaGrams™, we have an answer for you to try.
The Centers for Disease Control and Prevention (CDC) also has information on the risks of opioid use, including overdose and addiction. They provide data on opioid overdose rates and trends.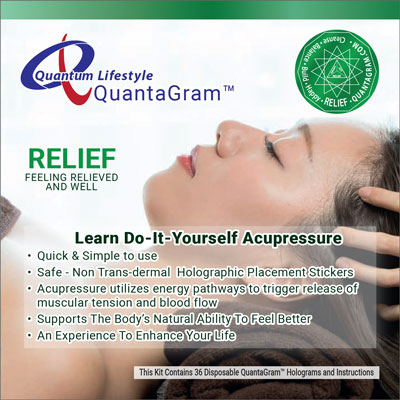 Each "Do-It-Yourself" Acupressure Kit contains 36 disposable self adhesive Quantum Infused QuantaGrams.
Also included are detailed instructions for placement on or near acupoints best to support your desired result.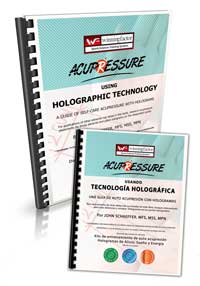 Exclusive book about holograms and acupressure
ACUPRESSURE USING HOLOGRAPHIC TECHNOLOGY
written by John Schaeffer, Sports Scientist, Trainer of Pro Sports and Olympic Athletes. English and Spanish version.
Read More…